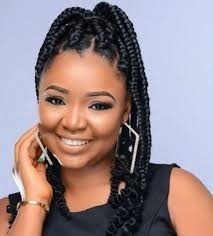 Ekene Umenwa Cynthia popularly known as Angel Palazzo or "Jesus Last Born," is a renowned comic actress, entrepreneur, filmmaker, content creator and event coordinator.

She is known for her roles in Nollywood films such as Money and Blood, The Cab Ladies, and Dangerous Love.


Early Life

Umenwa was born on August 27, 1991 in Igbo Ukwu, Anambra State, Nigeria. She
was raised in Benin City and attended Ebonyi State University, where she studied Biochemistry.

Her father is said to have lived in the United Kingdom for nine years.


Career

Angel Palazzo picked interest in acting since she was 13 years old. Growing up, the feelings for acting became stronger.

Her father never kicked against her acting career but her father's siblings did, convincing him not to allow her join the movie industry as they termed it a "prostitute" profession.

She first tried acting in 2011 after playing the role of a maid alongside veterans like Kenneth Okonkwo and Maureen Solomon in the movie "King After Kings," before gaining admission into the university.

She fully kicked off her acting career in 2018 with a role in the film Innocent Oath. She has since starred in numerous Nollywood films, including The Arrival, The Coming, My Final Decision, Death Wish, Black Casket, and Bad Omen.

The very successful and influential actress has also played romantic roles in scores of movies with top actors like Zubby Michael, Flash Boy and many others.

She is the founder of Ekene Umenwa TV which reached 100,000 YouTube subscribers in August 2023.

In addition to her acting career, Umenwa is also a model and event coordinator. She is the CEO of Ekyevents Confectionary, where she organizes events and sells cakes and other pastries.


Personal life

Umenwa who lives in Asaba, Delta State, is married to Nigerian filmmaker Alex Ifeanyi Ogbodo. They tied the knot on November 4, 2023 in Benin City, Edo State.

Her siblings are Nkem Osunkwor and Somto Umenwa, while her parents are Mr Nmenwa and Mrs Lucy Umenwa.

Besides, she is a popular figure on social media, with over 100,000 followers on Instagram. She is known for her sense of style, her positive attitude, and her love of her family and friends.

The actress whose main purpose in Nollywood is to win souls for Christ, launched her new year with a brand new Toyota car on January 2, 2021.

She is an advocate of virginity, who uses her voice to preach to young girls to abstain from sex until they get married.


Net Worth

The actress who earns thousands of dollars from her YouTube channel with engaging followers, has signed deals with skincare brand, Marymic Skincare and spa and a Real Estate Company, Nze Ventures Home. Her net worth is estimated to be around $100,000.

About The Author