Mother of Street Hawker Eniola Reveals Why Her Child Disguises as a Lady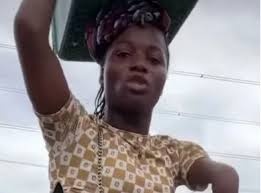 Reasons behind the transformation of Sultan Adeleke, the street hawker who has gone viral for dressing as a lady, has been made known by his mother, Kafayat Adeleke.

Beyond Boders reports that Eniola himself has confirmed on Instagram Live that he is a boy, and that his choice of attire was driven by the lack of assistance he received when he was not dressed as a lady.

In an interview with social media enthusiast Mr. LilGaga on Thursday, his mother revealed that Eniola has been disguising himself as a girl since 2018 due to a deformity he has had since birth.

"Sultan was never born a female; he was born with a deformity, and this was one of the reasons why I even like him.

Adeleke also denied allegations that she intended to use her son for rituals, affirming her love and support for him.

"You can come to Osogbo to confirm; he's the favourite among my children. I love him because it was because of him that people love me while sympathising with his physical condition. That claim is something that makes me sober when I am asked or told," she said.

Besides, she revealed that Eniola left for Lagos in 2020 to seek assistance, and began dressing as a girl to create a more relatable appeal.

She further stated that Eniola who fled Osogbo when confronted, has always opposed being addressed by his real name, Sultan, and prefers to be recognized as Eniola.

To buttress her point, Adeleke provided evidence of Eniola's deformity since birth and his birth certificate to substantiate her account.
About The Author